Top Gun: Maverick is an upcoming American military action drama film directed by Joseph Kosinski. It is the sequel to 1986 film, Top Gun. The film stars Tom Cruise, Val Kilmer and Miles Teller. It will be released on July 12, 2019 by Paramount Pictures.
Production
Edit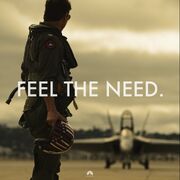 Development of the movie began in 2010 when Paramount Pictures made offers to Jerry Bruckheimer and Tony Scott to make a sequel to Top Gun. Christopher McQuarrie had also received an offer to write the sequel's screenplay, which was rumored to have Cruise's character Maverick in a smaller role. Ultimately, Peter Craig, Justin Marks, who described the movie as a dream project, Ashley Edward Miller and Zack Stentz would be credited as screenwriters on the project.
When asked about his idea for a new Top Gun film, Scott replied, "This world fascinated me, because it's so different from what it was originally. But I don't want to do a remake. I don't want to do a reinvention. I want to do a new movie". The movie will reportedly focus on the end of the dog fighting era and the role of drones in modern aerial warfare and that Cruise's character, Maverick, will fly a F-35 Lightning II.
After Scott's suicide, the sequel's future remained in question. However, producer Jerry Bruckheimer remained committed to the project, especially given Cruise's and Kilmer's interest.
In June 2017, Cruise revealed that the title would be Top Gun: Maverick, with Harold Faltermeyer returning as composer for the sequel. Cruise further stated that, "Aviators are back, the need for speed. We're going to have big, fast machines. It's going to be a competition film, like the first one…but a progression for Maverick". Later the same month, it was confirmed that the film would be directed by Joseph Kosinski, while no title was officially confirmed. Kilmer had posted on his Facebook page that he would be returning as Iceman.
Production on the film officially started on May 30, 2018 in San Diego, California.
Top Gun: Maverick is scheduled to be released on July 12, 2019 by Paramount Pictures.