Leonard Wolfe, or Wolfman, Was Rick "Hollywood" Neven's Radar Intercept Officer. He didn't play a large part in the film, but it was known that he was a Lieutenant Junior Grade.
When Maverick leaves Top Gun after falling into depression over the death of Goose, Wolfman informs Charlie that Maverick quit the program. If Wolfman had not done this, it is possible that Maverick would have left for good.
This brings up an interesting question. Why did Wolfman call Charlie? Did Charlie ask Wolfman to keep an eye on Maverick? If not, why would Wolfman even know to call Charlie as she and Maverick kept their relationship secret from everyone else except Goose? Did Charlie and Wolfman become friends during the events in movie?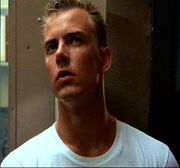 Community content is available under
CC-BY-SA
unless otherwise noted.